Recreate Fond Memories. Reimagine with New Experiences.
Celebrate Singapore's story, culture and remembrances at Discover Singapore new concept store with a plethora of handpicked gift and souvenir selections catered for every occasion.
Singapore, November 21 – Discover Singapore essence is brought to life through a new open concept gifts and souvenirs store at Changi Airport Terminal 2 that offers extraordinary visual impact, inviting travellers inside to embark on the shopping excursion.
The open structure creates a welcoming atmosphere that transcends travellers' journey to recreate fond memories through an experiential ambiance conceived with multisensorial touchpoints.
Sense of Place - Immerse in a unique ambiance deeply rooted in Singapore's culture

According to Lagardère Travel Retail Singapore and Malaysia Chief Executive Officer, Ann Pang, Changi Airport was one of the first airports to debut the 'Discover' concept by Lagardère Travel Retail, showcasing a true sense of place with warm local hospitality to travellers passing through Singapore.
"The new concept further accentuates a true expression of Singapore's rich multicultural heritage with distinctive designs echoing the city's diverse cultural precincts, architecture, and traditional ethnic motifs."
"This unique interpretation is reflected through the implementation of Peranakan style influenced elements in-store, the hybridization of Chinese and Southeast Asian countries culture where the Chinese people immigrated since 15th-century." explained Ann.
From the pristinely detailed tiles motif to the louvre shutter inspired wooden wall shelf product display, the embodiment of Peranakan house touches instantly adds a burst of vibrancy and attractiveness to the interior, brimming with Peranakan style geometric designs and colourful features.
Guiding the customer shopping experience with clear product category zoning signage is the adaptation of local persona with recognizable characteristics identified for the four main selections of product offerings ranging from local delicacies, fashion, wellness, artisanal gifts to recommended picks.
Locally-termed language, Singlish, derived from the combination of Singaporean slang and English is also creatively incorporated as part of the visual communication messages highlight.
Sense of Moment – Embark on an exceptional discovery experience to recreate fond memories

The discovery journey continues with a centre piece that captures an integral part of Singaporeans' life - the hawker culture, which was inscribed as Singapore's first element on the UNESCO Representative List of the Intangible Cultural Heritage of Humanity in 2020.
Within the hawker centre setting, where people from all walks of life gather to dine and bond over veritable melting pot of flavours hawker food, is transformed to a "Pick & Mix" zone showcasing a variety of gifting
treasures. The refreshed design is further enhanced by incorporating the newly created Discover Singapore mascot "MerMer".
"We are delighted to introduce Discover Singapore's rendition of Merlion, MerMer, in conjunction with the new concept store opening and the 50th anniversary of Merlion, the national icon that is recognised around the world and a symbol well-resonate with tourism over the years," said Ann.
"Upon entering the store, MerMer is seen greeting the travellers with a welcome message on the digital screen that exudes his fun-loving, energetic and approachable character interacting with shoppers."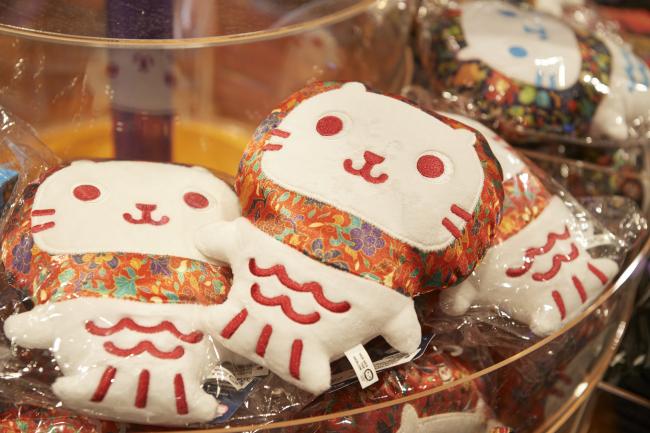 "As MerMer is also passionate about sharing his exploration journey in Singapore, he plays the role in recommending some of the best handpick Merlion-themed merchandise catered at the Pick & Mix zone, consisting of figurines, plush, stationery, shopping bags, travel pouches and more."
Ann also unveiled that exclusive MerMer merchandise will be launched next year with more exciting activations planned in the pipeline.
The sculpture also serves as a prominent photography spot for travellers to seize a memorable moment as a memento.


Sense of Purpose – Inculcate positive change and embrace sustainable living practice
Crafting a new purpose and meaning in appreciation of the discerning shoppers' value in embracing sustainable living practice, the new Discover Singapore store upholds Lagardère's commitment in driving sustainable development leveraging on green technology to minimize environmental impact.
From the hoarding built during construction to fabrication of in-store fixtures, the new concept store realized a range of circular and sustainable initiatives resulted in 34% reduction in Carbon dioxide emissions equalling 21.43 t Carbon dioxide saved as compared to traditional approach.
Modular and re-usable hoarding solutions were applied during constructions versus standard hoarding which is typically made of plasterboard with aluminium framing that ends up being incinerated. The hoarding panels are made with flexibility allowing them to be laid vertically or horizontally with concealed fixing method. This perfects the installation method and transform the appearance of a renovation site.
In the construction of MerMer, recyclable Poly (methyl methacrylate) (PMMA) that emits no toxic or cancerogenic, mutagenic, teratogenic or any other undesirable substance was chosen. These characteristics thus made it more versatile to be used in its raw form or recycle for different applications.
Additionally, eco board, recycled plastic and cast acrylic sheet are selected to craft the fixtures. Eco board is made from agricultural waste, rice husks and straw, thus reduce the reliance on wood materials and deforestation. Selected countertops are made from recycled milk bottles collected in Singapore. The cast acrylic sheet is recyclable to its original raw material countless times which helps to minimise waste send to landfill and lessen carbon footprint.
The new concept store is also equipped with energy efficiency lighting. The lighting technology of the luminaires applied is based on the principle of projecting light via lenses. This makes them up to 20% more effective than conventional luminaires with reflector technology. The innovative conception also produces more precise zonal lighting onto the target surface without spill light.
Lastly, high quality paint made from food waste including grape skins and corn husks is used which has minimal impact on the environment and human health. The paint has one of the lowest VOC (Volatile Organic
Compound) ratings of any paint available. It can be tinted to any colour and gloss level. 100% bio-based, 100% comprised of recycled waste materials, 100% recyclable, and is cradle-to-cradle compliant.
Lagardère Travel Retail has always been at the forefront in developing sustainable solutions and strive to deliver our commitment by working closely with business partners to improve energy consumption efficiency.
Discover Singapore has recently gained its recognition as one of the finalists being selected for Singapore Tourism Award 2022, delivering an Outstanding Retail Store Experience in translating local contexts and cultures into an authentic customer journey experience with its ambiance, displays and offerings in creating an immersive shopping experience.
The Discover Singapore new concept store continue to preserve the brand's core values with enrich discovery journey. The store is located at Changi Airport, Terminal 2, Departure Hall.